Jarell's Little Summit for Ava - SEPTEMBER 2022:
13/06/2022:
Overwhelmed!
All of us have been totally blown away by the donations and messages of support we have received to date!
When we first decided we were doing this we decided to go big and go for £3,000 so we had a big milestone to hit and we had plenty of time. At the time of me writing this our donations stand at an amazing £2,190.00 which is 73% of our goal and we are still just shy of 3 months out from our challenge.
In addition to this we have been inundated with messages of encouragement and positivity and a local business has been in touch to offer their premises for a fundraising night soon to make some noise! We are in talks with local businesses discussing kit sponsorship too.
We are still hitting the training hard and will be getting stuck into a trial summit of Snowdon soon which should be an eye opener.
We will keep you posted on progress of course and by all means keep the donations coming by clicking here.
Thanks everyone!
Mike x
30/05/2022:
Feeling sore today!
James, Charlotte and I met at 07:00 on Saturday morning for a practise hike across The Malverns.
We went well and truly off-piste and took on some incredible inclines and some problematic rock faces.
I learned a valuable lesson in the importance of proper footwear even for training having gone down one rock face like it was a luge.
We only completed 10KM for practise on Saturday but the blisters are aplenty as expected and the legs are sore!
We are buoyed and driven by the amazing generosity of everyone so far! Just over a week since we launched our page raising money for New Hope in Worcester we have almost hit 50% of the £3,000 target we set ourselves.
Our gratitude cannot be overstated - we know how hard it is currently for everyone with runaway energy, food and general life prices. So to see such generosity in such times of uncertainty has blown us away!
We go again this weekend (with proper boots on) and will keep pushing ourselves to make sure we get the job done in September!
Please keep the donations coming by clicking here!
We've got this!
Charlotte, JC and Mike :-)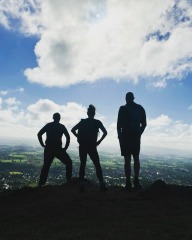 ​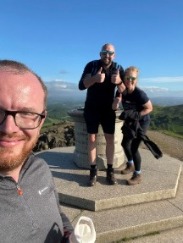 23/05/2022:
Hi everyone!
It is official. No going back now. It is out there on social media!
James Cronin, Commercial Director of The Jarell Group, Charlotte Harkin, Group HR Director of The Jarell Group, and myself are doing the Three Peaks Challenge between September 2nd and September 4th!
We are aiming to raise £3,000.00 for New Hope Children's Charity (New Hope Worcester Childrens Charity) in Worcester supporting them providing fantastic care for children with an array of complex needs and also much needed respite for their parents and carers.
New Hope is a beautiful place that provides an invaluable service for its clients and we are really pleased to be working with them again on this!
We have called it Jarell's A Little Summit for Ava after my beautiful, smiley, daughter who has recently been diagnosed with a condition called Angelman Syndrome - so we are raising money in her name for the other kids in the same boat so they continue to have this beautiful, safe, happy place to meet their peers and have a happy childhood like any other child.
For those that aren't aware the Three Peaks is 23 miles of hiking, ascending a total of 10,000 ft, over a 24 hour period!
Blisters aplenty!
We will be keeping you all up to date on here with training, hikes, sponsorship news and thanks and more on what the good people of New Hope do.
If you are in a position to sponsor us anything at all to help us meet and smash our target please go to www.justgiving.com/crowdfunding/summitforava.
I look forward to sharing our journey with you all
Thanks all - let the fun begin!
Mike